In April 2021, we launched the Know Your Rights & Bystander Intervention Training, a series of public trainings for vulnerable communities, survivors of hate, and bystanders who want to know how to safely intervene in a hate crime. This training on your rights and resources features LAPD, Civil Rights Commissioners and attorneys and special guests.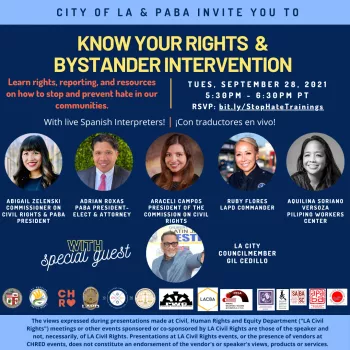 These trainings are brought to you by the Civil + Human Rights and Equity Department, Department of Public Works, Philippine American Bar Association, LAPD and the Commission on Civil Rights.
Other sponsors include: Los Angeles County Bar Association, The Pilipino Workers Center, The Mexican American Bar Association, Equality California, The Anti-Defamation League, Asian Pacific American Bar Association of Southern California, The Japanese American Bar Association, South Asian Bar Association of Southern California, Southern California Chinese Lawyers Association, Parents, Educators and Students in Action, and the Asian Pacific American Women Lawyers Association.
Watch recordings of all our trainings on our YouTube channel.