Los Angeles is one of the most diverse cities on Earth. We at LA Civil Rights believe that diversity is our strength, and it must be cherished and protected. That includes preventing and responding to hate crimes and hate incidents.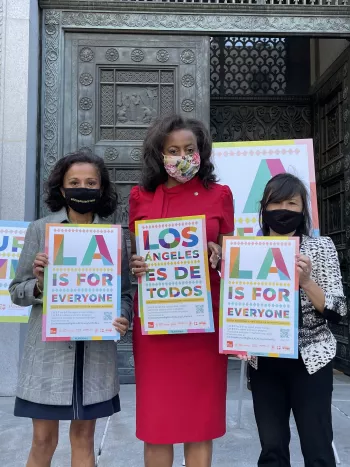 What is a Hate Crime?
A hate crime is any criminal act or attempted criminal act directed against a person or persons based on someone's actual or perceived race, nationality, religion, sexual orientation, disability, or gender. Hate crimes can include (but are not limited to) threats of violence, injury, and property damage. 
What is a Hate Incident?
Hate incidents are similar to hate crimes in that the act is directed against a person or persons based on the victim's actual or perceived race, nationality, religion, sexual orientation, disability or gender. The difference between a hate incident and a hate crime is that a hate incident is not a criminal act. Hate incidents can include (but are not limited to) hate flyers or language distributed or posted in a public space and hate graffiti in public places not directed against a specific target, such as an epithet on a vacant building.
What are the Resources?
Report to LAPD

Report a hate crime or hate incident to LAPD. All LAPD officers are trained to take hate crime and hate incident reports. Even if you did not experience or witness a hate crime, but a hate incident, reporting it is an important tool to inform the City of Los Angeles with accurate data that can inform City policy. You can report a hate crime at any police station or by calling 9-1-1. You can also call the LAPD tip line at 877-529-3835. 

Report to 3-1-1/LA City

Report a hate crime or hate incident using 3-1-1. City of Los Angeles residents can now report hate crimes and hate incidents by calling 3-1-1, visiting myla311.lacity.org, or using the MyLA311 app on their Apple or Android device. You can report anonymously and be provided access to further community-based and crisis care resources.

Report to 2-1-1/LA County

Report a hate crime or hate incident to LA County. Los Angeles County collects reports regarding hate crimes, hate incidents, and bias-motivated behavior. By filing a report as a victim, witness, or advocate for a victim of hate crimes, hate acts, or bullying, reporters will be referred to resources in their local community and have the option to receive personalized follow up from a 211 care coordinator. Information can be submitted anonymously online, by calling 2-1-1, or by calling (800) 339-6993.

Community Resources

CA State Resources

Victims Assistance Resources

Los Angeles: The City of Los Angeles City Attorney's Office has a Victims Assistance Portal available in 14 languages with resources for victims of crime, including hate crime. Resources include mental health counseling, support for income loss or injury, and much more. Click here to learn more.

California; The State of California has a Victims Resource Board and victims compensation fund to properly administer the funds to victims of hate crimes. Leas more at victims.ca.gov. Watch a presentation on California Dept of Justice Victims' Services Unit here.

Legal Resources

AAPI-language videos

The Los Angeles Police Department has provided informational videos about hate crimes, hate incidents, and how victims can report hate and get help. Please see the videos in various languages below:

 

Online Harrasment

Being harassed online is never ok, and the iHollaback HeartMob is here to support you. Find a toolbox of resources for stopping online hate here and learn more at www.ihollaback.org.

Resources for City Employees, Interns & Contractors

The City of Los Angeles has developed MyVoiceLA for current and former City employees, contract workers, interns and volunteers, commissioners, elected and appointed officials, and applicants for City employment who are seeking more information about their rights and responsibilities relating to discrimination, harassment, and/or retaliation.

If you believe you have been subjected to discrimination, harassment and/or retaliation, you can use this portal to submit a complaint at https://myvoicela.org/.
What Can I Do?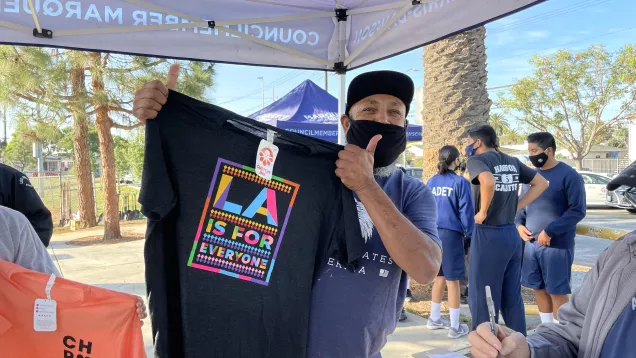 Whether you are the victim of hate crime or incident, a witness, or an ally looking to help, there is a resource for you. LA Civil Rights is committed to ensuring everyone in Los Angeles is informed of their rights and resources in order to live free from hate. Check out the various ways to get involved below.