Posted on 01/28/2021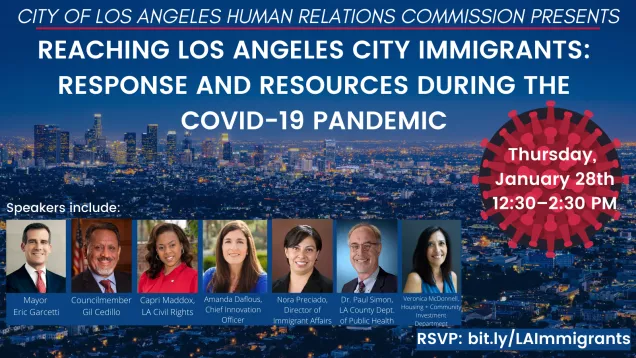 The Civil + Human Rights and Equity Department (LA Civil Rights), along with the City of Los Angeles Human Relations Commission Immigration Ad Hoc Committee, hosted Reaching LA City Immigrants: Responses and Resources During the COVID-19 Pandemic. Scroll down to find links to many of the resources mentioned during the webinar.
About the webinar: This event brought together city leaders, public health experts, and immigrant community service providers to share the latest COVID-19 information and resources with Los Angeles' immigrant communities. The webinar was specifically designed to support community organizations and service providers in Los Angeles' immigrant communities, empowering them with information and resources that will allow them to better serve immigrant communities across Los Angeles.
LA Civil Rights recognizes that immigrant communities across Los Angeles are disproportionately impacted by the COVID-19 pandemic. Immigrants, especially Latino immigrants, are facing higher rates of infection and serious illness. Many are at higher risk of losing their job or income. This is why we held this discussion with leaders in health, housing and human services to make sure that all the resources available are reaching LA's immigrant communities.
Speakers at this webinar included:
Los Angeles Mayor Eric Garcetti
Councilmember Gil Cedillo, District 1
Capri Maddox, Executive Director of the Civil + Human Rights and Equity Department
Angelica Solis-Montero, President of the LA City Human Relations Commission
Dr. Paul Simon, 

Chief Science Officer at the Los Angeles County Department of Public Health

Amanda Daflos, Chief Innovation Officer for the Office of Mayor Garcetti
Nora Preciado, Director of Immigrant Affairs for the Office of Mayor Garcetti
Veronica McDonnell, Housing + Community Investment Department's Family Source Center Program
General resources for Immigrant & Refugee Angelenos:
Vaccine Appointments and Eligibility: VaccinateLACounty.com or call 1-833-540-0473 between 8:00 AM and 8:30 PM 7 days a week.
COVID-19 resources for Immigrant & Refugee Angelenos:
Phone Numbers to Call:
General COVID-19 Questions: 2-1-1
Vaccine Appointments: 1-833-540-0473
Report a business in violation of COVID-19 Health orders: 

1-888-700-9995

Report a Workplace Violation: 

1-888-700-9995

Report a COVID-19 Outbreak: 

1-888-397-3993

Information for people who recently tested positive: 

1-833-540-0473

Mental Health Access Line 24/7: 

1-800-854-7771