Los Angeles has some of the lowest income and highest need areas in the country resulting from years of structural and institutional racism. These inequities were further made apparent as the COVID-19 pandemic disproportionately impacted our low-income communities of color.
The Los Angeles Reforms for Equity and Public Acknowledgment of Institutional Racism (L.A. REPAIR) Innovation Fund, created by Mayor Eric Garcetti, will fund LA's first participatory budget pilot program.
The LA REPAIR Participatory Budget will distribute roughly $8.5 million in city funds directly to nine LA City communities called LA REPAIR Zones. How those dollars are spent will be decided entirely by the community through a democratic process known as a Participatory Budget. Community members of each REPAIR Zone will submit ideas that everyone in the neighborhood can vote on, empowering individuals to decide how dollars are spent in their community.
Participatory Budgeting is designed to: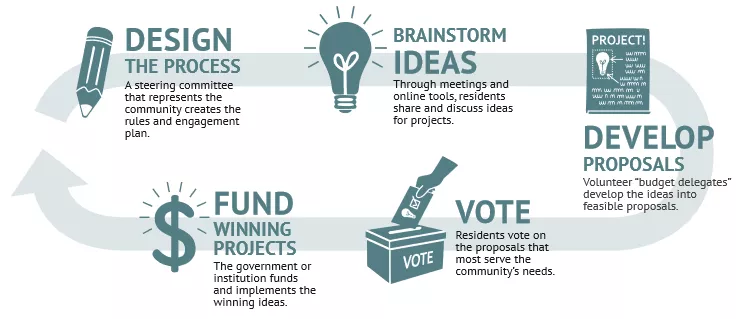 Emphasize public ownership of government resources: Direct available resources in a manner which residents feel is most urgently needed; trust grassroots groups to manage projects.
Deepen democracy: Increase the volume, quality, and longevity of residents' engagement in city governance.
Improve trust in government: Enhance transparency and accountability in budgeting decisions.
Build stronger communities: Connect funding to community based organizations and local context by incorporating on-the-ground community knowledge ー improving chances of successful and sustained outcomes that matter most to people.
Nine communities, called REPAIR Zones, will a) generate and put forward ideas for programs, b) vote on allocation toward proposed programs, and c) monitor spending and outcomes, allocating approximately $8.5M through the process.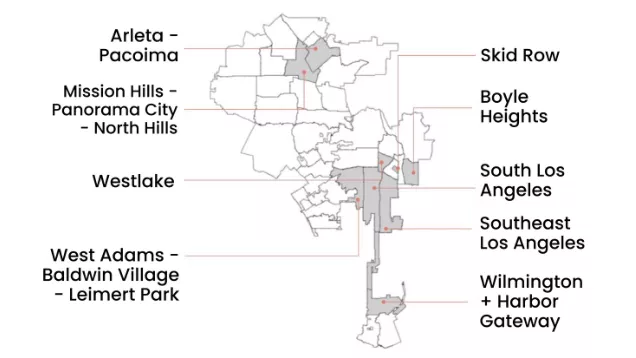 The nine REPAIR Zones are: Skid Row, Arleta-Pacoima, Boyle Heights, Mission Hills-Panorama City-North Hills, Westlake, West Adams, South Los Angeles, Southeast LA (South LA east of the 110 Fwy) and Wilmington-Harbor Gateway. 
We used poverty data, COVID-19 case rate data, as well as data reflecting the digital divide and a statewide mapping tool of pollution called CalEnviroScreen to determine the nine REPAIR zones.
All nine communities have at least 87% residents of color, and at least 16% live in poverty. Furthermore, these communities have an unemployment rate of at least 15%, and at least 30% of all renter households paid half or more of their income on rent.
Solicitation of ideas from the nine REPAIR Zones will begin in 2022.
Click here to read our report on the LA Repair Pilot Program.