Posted on 10/17/2022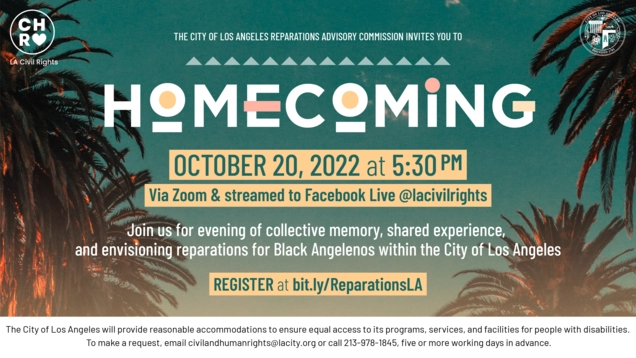 LOS ANGELES - The city's seven-member Reparations Advisory Commission will host a public meeting this Thursday, October 20th at 5:30 PM. "Homecoming," a virtual event, calls together Black Angelenos to share their stories of systemic racism and learn about the reparations pilot program to be developed in the city. Mayor Eric Garcetti first announced the creation of the Commission, which is a part of the LA Civil Rights Department, in 2021.
"Reparations are a necessary step to heal our city and address the centuries of harm done to African Americans in Los Angeles," said Reparations Advisory Commission Chair Micheal Lawson, who is also the CEO & President of the LA Urban League. "The Reparations Advisory Commission is working to take that next step with input from scholars and the community. Now is the time for the community to come together and contribute to a reparations plan for Los Angeles."
"Black Americans have always faced bigotry, racism, and discrimination and we can trace the toll that slavery has taken in their unequal health, wealth, and educational outcomes," said Mayor Eric Garcetti. "In launching a reparations commission, the City of Los Angeles is acknowledging, and seeking to address, the injustices of the past  — while working to build a future where all Angelenos are given the opportunity to thrive and reach for their full potential."
Click here to learn more about the city's Reparations Advisory Commission.
"Homecoming," first announced on October 7th, will be an interactive virtual event on Zoom and Facebook Live. Reparations Advisory Commissioners will present on the mission and goals of the Commission and the next steps in developing a reparations program for the City of Los Angeles. The public and members of the media can RSVP at bit.ly/ReparationsLA or watch live at Facebook.com/LACivilRights. 
"Los Angeles has a history of institutional racism that has separated African Americans from their health, their wealth and their liberty for generations," said LA Civil Rights Executive Director Capri Maddox. "It's about time we talked about these inequities. Our Reparations Advisory Commission created by Mayor Garcetti is calling Black Angelenos together for an honest conversation about what reparations could look like for Los Angeles - I hope you'll join us."
Meeting participants will be able to share their stories among various issue areas, including Housing and Property, Policing, Surveillance and Mass Incarceration, Environmental Outcomes, Education, Wealth Gap and Economics, Voting & Political Power, and Broken Families/Lost Familial Connections. These open discussions, as well as a general public comment period, will help the Commission develop a potential reparations pilot program that will go to City Council for approval next year.
The Reparations Advisory Commission is also seeking a project manager, academic partner, and development partner to support its work. More information and opportunities to apply for the positions can be found here. Future meetings of the Reparations Advisory Commission will be announced at civilandhumanrights.lacity.org.
Click here to RSVP for Homecoming on October 20, 2022 at 5:30 PM PST.
Click here to find flyers and graphics for Homecoming on October, 20, 2022.