Posted on 09/19/2022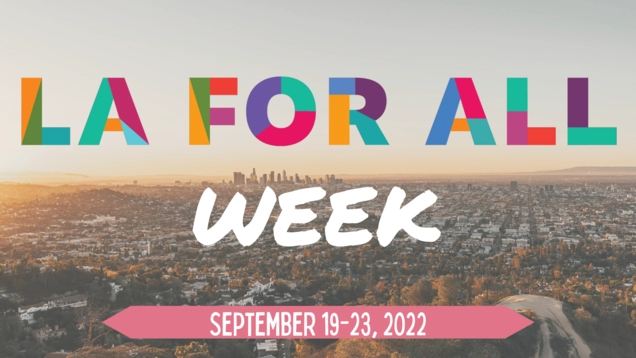 LOS ANGELES - The city will celebrate its first "LA For All week" September 19th through the 23rd to celebrate the LA For All Campaign, an anti-hate PSA campaign by the LA Civil Rights Department. A dozen iconic structures from LA City Hall to the 6th Street Viaduct will light up in the campaign's mosaic of colors, LA For All posters will be hung in storefronts across the city, and the department will host an LA For All Day celebration on September 22nd.
"In Los Angeles we not only celebrate differences, we uplift them because that is where our strength comes from — our diversity allows us to learn from each other and experience the otherwise unknown," said Mayor Eric Garcetti. "While the past few years have shown us there is much work to be done as a nation, we have also learned that Angelenos will stand up for one another in the face of injustice. So, let's celebrate each other, our differences and similarities through our cultural connections, our languages, and shared friendships — happy LA for All week"
"LA's greatest strength lies in its diversity, but that diversity must be protected," said LA Civil Rights Executive Director Capri Maddox. "LA For All doesn't just promote hate reporting resources in 18 languages, it promotes a Los Angeles of belonging and inclusion. We are launching LA For All week because we can't sit by and watch hate continue to rise. We are standing together to make it known that Los Angeles is for everyone."
The weeklong celebration will include a student art show at Cal State LA on Tuesday September 20th and LA For All Day, a resource fair in LA's historic Lincoln Park on Thursday September 22nd. The free event will have food, music, live performances and community resources from across Los Angeles. City and community leaders will gather to celebrate LA's strength in diversity and grow connections across cultures and communities. 
Iconic locations across Los Angeles will also light up in the mosaic of colors designed by LA For All artist Masaki Koike on September 22nd. LA City Hall, Union Station, the US Bank Tower, the pylons at LAX, the 6th Street Viaduct, Los Angeles Memorial Coliseum, USC's Galen Center, Metro Headquarters, the LA Zoo, The LAFC Banc of California Stadium, Dodger Stadium, and the Herald Examiner Building will all join the citywide declaration of an LA for All only one day after the International Day of Peace. Everyone is invited to join the citywide celebration of LA's diversity by ordering a free LA For All poster or downloading the LA for All social media toolkit.
The city also expanded its hate reporting capacity through the 311 system this week, training operators to take hate reports in multiple languages with a trauma-informed and a victim centered approach. This will provide victims and bystanders with more options to report hate, allow the city to better facilitate data aggregation and near real-time analysis of hate reporting data, and connect those impacted by hate with referrals to social services and other support resources. 
LA For All Week comes as reported hate crimes continue to rise across the United States and in Los Angeles. A USC Analysis showed that hate crimes in Los Angeles are on track to surpass the record-number of hate crimes reported in 2021, when Los Angeles recorded the most hate crimes among large U.S. cities.
The LA For All campaign created by the LA Civil Rights Department launched in 2021 as hate crimes were rising across the region. The campaign has since grown to include 18 languages and has been displayed on over 5,000 ad spaces in Greater Los Angeles, including trains and buses, city parks and libraries, and hundreds of local businesses. The campaign won an advertising award this year from the American Advertising Awards. Click here to learn more.
Click here to RSVP for LA For All Day.
Click here to order a free LA for All Poster.
Click here to download the LA For All Week Social Media Toolkit.
###
The Los Angeles Civil + Human Rights and Equity Department (LA Civil Rights) was established in 2020 to maintain and strengthen Los Angeles' diversity, equity, and accountability through equity & empowerment programming, outreach, and anti-discrimination enforcement.
civilandhumanrights.lacity.org