Posted on 05/20/2022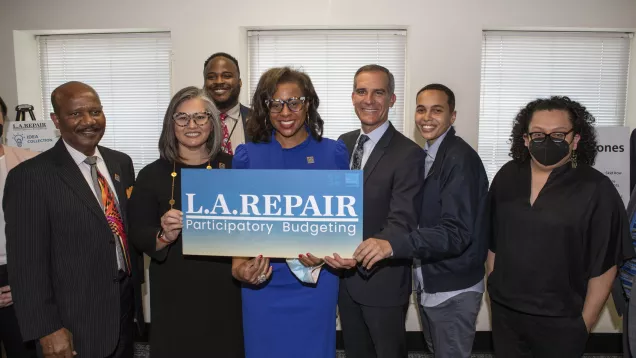 LOS ANGELES - Mayor Eric Garcetti and the Civil + Human Rights and Equity Department (L.A. Civil Rights) today launched the first phase of L.A. REPAIR (Reforms for Equity and Public Acknowledgment of Institutional Racism), the City's first and California's largest-ever participatory budgeting program.
"L.A. REPAIR gives communities deeply affected by the history of racial and economic injustice a direct say in investments to bring more resources to their  neighborhoods and grow their opportunities," said Mayor Eric Garcetti. "Our goal is to put decision-making power directly into the hands of Angelenos so they can be partners in building a more just and equitable city."
L.A. REPAIR will give nine L.A. neighborhoods the power to decide how to spend $8.5 million of City funding on programs that will directly benefit them. The nine REPAIR Zones are among those most impacted by poverty, COVID-19, pollution, and unemployment.
During phase one, L.A. REPAIR will recruit a Steering Committee, which will be entrusted with developing a guidebook for implementing this program. Recruitment for the Steering Committee will continue through early June, and 17 members from each of the nine REPAIR Zones will be selected in mid-June. The Steering Committee will make key decisions about the process and design of the overall participatory budgeting pilot program over a series of meetings this summer.
The nine REPAIR Zones include Arleta-Pacoima, Boyle Heights, Mission Hills-Panorama City-North Hills, Skid Row,  South Los Angeles, Southeast Los Angeles, West Adams - Baldwin Village - Leimert Park, Westlake, and Wilmington-Harbor Gateway. L.A. REPAIR will initially launch in Mission Hills-Panorama City-North Hills, Southeast Los Angeles, and Boyle Heights. REPAIR Zones with the program launching in the other six communities in 2023. More details about the L.A. REPAIR Zones can be found at Repair.LACity.org.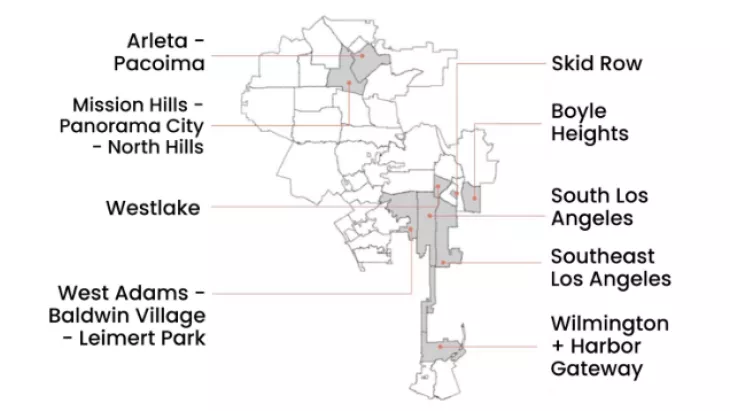 According to an L.A. City Council report, all nine REPAIR zones are composed of at least 87% people of color with at least 16% living in poverty. Additionally, these communities have an unemployment rate of at least 15% and at least 30% of all renter households pay half or more of their income on rent.
The L.A. REPAIR pilot is being led by the L.A. Civil Rights Department with support from the Participatory Budgeting Project. Every step of the L.A. REPAIR participatory budgeting program will be community-driven, from the committees that will shape the process and its rollout, to the ideas proposed, and the final vote on how the money should be spent.
"L.A. REPAIR gives real people real power over real money," said L.A. Civil Rights Executive Director Capri Maddox. "This is more than just $8.5 million, it's empowerment for the neighborhoods of Los Angeles most impacted by poverty and systemic racism. We are so grateful to Mayor Garcetti and the City Council for championing L.A. REPAIR, and encourage everyone in a REPAIR Zone to apply for the Steering Committee."
Following recruitment for the Steering Committee, L.A. REPAIR will seek community members to serve on Advisory Committees for each REPAIR Zone. Solicitation of ideas from community members will begin in the fall. 
For more information and to apply to serve on the Steering Committee, go to Repair.LACity.org.