Posted on 08/04/2022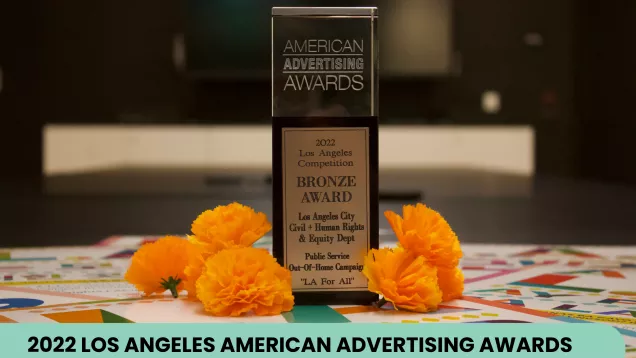 LOS ANGELES - The LA For All campaign, a citywide anti-hate PSA campaign created by LA Civil Rights, won a Bronze Award from the American Advertising Federation's Los Angeles Competition. LA For All was the only entrant not represented by an advertising firm to be recognized.
The award, which recognizes the best in American advertising, was in the PSA Out-of-Home category, for public service ad campaigns that are featured on billboards, bus stops and other public spaces. The LA For All campaign, which first launched in May 2021, has been featured on over 4,500 ad spaces in Greater Los Angeles in 18 languages. The campaign has been seen on Metro trains and buses, street banners, bus stops, the Banc of California Stadium, parks and libraries, the LA Zoo, and more.
The campaign also includes a free poster program for small businesses, classrooms and organizations interested in standing up to hate with solidarity, inclusion and  information for reporting hate crimes and incidents. The free poster program has distributed over a thousand posters to hundreds of small businesses and organizations in Los Angeles.
Click here to learn more about the LA For All campaign.