Posted on 12/10/2021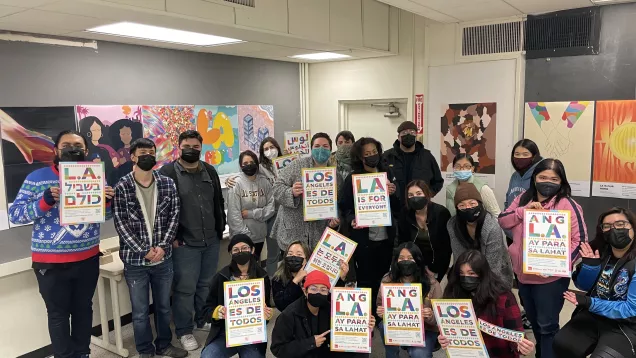 LOS ANGELES - Students in Professor Zachary Vernon's graphic design class at California State University Los Angeles, or Cal State LA, are used to creating visual campaigns for mock clients. But on December 9th, those clients were in the room, listening intently as the undergraduate students presented their final projects of the semester: Anti-hate PSA campaigns that promote inclusion and hate crime reporting for the City of Los Angeles' LA For All' campaign.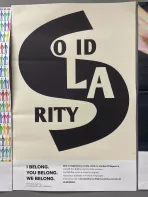 "We launched LA For All to address hate in our city and to stand up for diversity, inclusion and belonging in LA," said Capri Maddox, Executive Director of the city's Civil + Human Rights and Equity Department and Cal State LA alumna. "Involving Cal State LA students in this work is a natural fit. These young people are the future of LA, and their vision for an inclusive and empowered Los Angeles is what we're fighting for at the LA Civil Rights Department. We are so honored to have this partnership with Cal State LA."
"The opportunity to partner with the City of Los Angeles on this important initiative was very exciting, and to see our faculty and students offer their insight and artwork to move this message forward is inspiring.  Capri Maddox is an amazing ambassador for both the city and our university.  We are grateful for her leadership," said Janet Dial, Vice President for University Advancement and Executive Director of the Cal State LA Foundation.
LA For All, launched in May by the Civil + Human Rights and Equity Department (also known as LA Civil Rights), is an anti-hate campaign running in 18 languages and more than 4,000 ad spaces across Greater Los Angeles. It's bright colors and messages like "LA is for Everyone" and "I Belong. You Belong. We Belong." have adorned buses, trains, parks, stadiums and more, making it the largest anti-hate PSA campaign in city government history.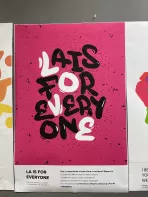 That campaign is now growing with the perspectives of Cal State LA undergraduate students, many of whom grew up nearby amidst a 5-year rise in reported hate crimes in Los Angeles, including a 20% jump last year alone.
The students in Professor Vernon's Concept Development course were tasked with creating a compelling poster design that communicated their personal interpretation of one of the main messages of the 'LA for All' campaign. The students produced work that ranged from illustration and photography to abstract art pieces and typographic designs.
Works included street art, portraits of diverse families and communities, and bold statements of solidarity and inclusion in English and Spanish. One poster showed LA County as if it were composed entirely of flowers, surrounded by a sea of overlapping colors. Another simply said "Protege Nuestro Hogar" (Protect our Home) in front of a radiant sun.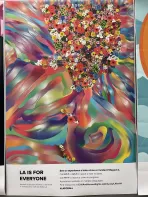 "Good design speaks to us on a fundamentally human level," said Professor Vernon, "and there is nothing more human than creating connections between people. That was the goal of this project and the students really took that to heart."
Cal State LA, ranked number one in the U.S. for upward mobility, holds a diverse student body. The majority of its 27,000 students are non-white, and many see the need for more messages that stand up to hate and division in Los Angeles. 
"As we see what happens around us, it is important to look out for one another and stick together," said student Valeria Olvera. "I wanted to create an image that captures the simplicity and beauty of helping each other in our community." See Valeria's work here.
"Having a sense of belonging or solidarity allows people to think about their unity with their community or country where they belong," said student Heo Kim. "Since LA is a place where various races exist, I want to emphasize a strong sense of solidarity and tell people that LA can belong to anyone and anyone can belong to LA." See Heo's work here.