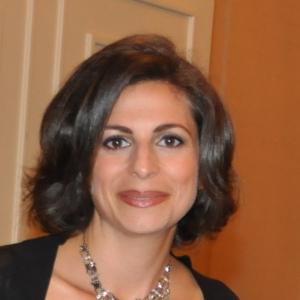 Director of Policy and Enforcement
Joumana Silyan-Saba is the Director of Policy and Enforcement for the Civil + Human Rights and Equity Department (LA Civil Rights).
Joumana is an accomplished public leader, with a career in public service spanning 18 years of experience in non-profit, city government and academia. With a sense of optimism, Joumana is committed to diplomacy, inclusion and bringing about social change to expand equity and inclusion.  Through her extensive work in intergroup relations, religious pluralism, and social integration she has fostered long-standing relationships with leaders in community based organizations, academia, public agencies and the private sector.
In her role at LA Civil Rights, Joumana is instituting the discrimination enforcement operation aimed at implementing the LA Civil Rights Law.   She previously led efforts in Mayor Garcetti's Office for Public Safety, and served as a Senior Policy Analyst for the City of Los Angeles Human Relations Commission where she led city-wide multi-faith engagements and advocated to advance various social justice policies.
As a Los Angeles City ambassador, advocate and spokesperson, Joumana represented the City on key political and community issues at the local, state, national and international levels.   In 2015, she was invited to the White House, where she briefed then-Vice President Joe Biden and participated at the UN General Assembly summit on violent extremism, hosted by President Barack Obama.  She advised the National Academies of Sciences (NAS) Planning Committee on exploring the use of health approaches in community-level strategies to prevent extremism, and contributed to the subsequent publication. 
She is a frequent invited guest speaker, moderator and panelist at national and international conferences and appeared with experts and world leaders. She serves as a thought leader and has published research and contributed to articles on topics related to faith engagement, community empowerment, and social cohesion.  Joumana's passion and expertise lies in international relations, and implementing diplomacy at the local level, where in 2017, she was recognized for her service with the Citizen Diplomat of the Year Award. Joumana is an Ambassador for Religions for Peace, a global multi-faith convening to promote peaceful, just and inclusive societies.  She Chairs the Board of Directors for Life after Hate, and serves as the Co-Chair of the LAPD training Professional Advisory Committee.
Joumana has a Bachelor's degree in Criminal Justice and earned a Master's degree in Mediation, Negotiation and Conflict Management.  She served as an Adjunct Assistant Professor and taught graduate courses on public policy conflict and peacebuilding.  Joumana served as a non-resident Fellow at George Washington University Program on Extremism in Washington, DC.   She was invited to conduct trainings with the U.S. Department of State on community-law enforcement partnerships in both Nepal and India. She is a California State Certified Mediator and is fluent in English and Arabic.  Joumana resides with her husband and children in Los Angeles, California.