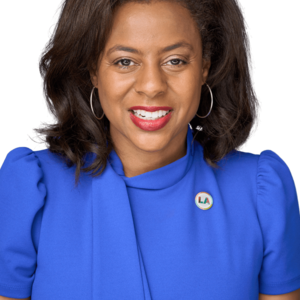 Executive Director & General Manager
Capri Maddox is the Executive Director of the Los Angeles Civil + Human Rights and Equity Department (LA Civil Rights). Mayor Eric Garcetti appointed Ms. Maddox to be the Department's first Executive Director in February 2020 to address systemic racism and bias in the areas of commerce, education, employment, and housing.
Under Ms. Maddox's leadership, LA Civil Rights will level the playing field through partnerships with the Commission on Civil Rights, Commission on the Status of Women, Reparations Commission and the Human Relations Commission, including the Transgender Advisory Council.
Previously, Ms. Maddox served as Senior Advisor to City Attorney Michael N. Feuer. In that role, she was responsible for leading Special Projects on behalf of the elected City Attorney, such as: spearheading the City Attorney Business Support Program, creating the Foster Care Diversion Program, organizing the City Attorney Faith-Based Council, overseeing recruitment and outreach efforts, addressing key Neighborhood Council and City Council requests, participating in criminal and civil cases, and coordinating school safety projects with Los Angeles Unified School District (LAUSD).
During the 2018-2019 school year, Ms. Maddox served as Executive Director of Partnerships on loan to LAUSD from the Office of the City Attorney via Southern California Grantmakers. During this one-year assignment, she assisted LAUSD in acquiring over $43 million dollars in resources for students in need and led several equity-based initiatives.
Ms. Maddox also served as the President of the Los Angeles Board of Public Works, as a Mayor Villaraigosa appointee. In this role, she managed 5,000 employees and an annual budget of $1.8 billion dollars to deliver basic infrastructure services to City residents. Before joining the Board of Public Works, Ms. Maddox served as a Deputy City Attorney in the following assignments: General Counsel Group - Neighborhood Empowerment, Complex Litigation, Neighborhood Prosecutor Program – LAPD's Wilshire Station, and Central Trials – Criminal Branch. Prior to her legal career, she worked as a Community Development and Housing Analyst with the City of Glendale, and Earthquake Recovery Project Manager with the Los Angeles Housing Department.
Ms. Maddox has a Bachelor of Science in Criminal Justice and a Master of Science in Public Administration from California State University, Los Angeles. She received her Juris Doctorate from Pepperdine University School of Law in Malibu, California. She continues her involvement with many higher educational institutions, including mentoring students at numerous universities and serving as a California State University, Los Angeles President's Council Member. Ms. Maddox is also a proud member of the Southern California Public Radio (SCPR) Board of Trustees – SCPR locally broadcasts on KPCC 89.3 FM.
Ms. Maddox is a member of First AME Church – Los Angeles, where she serves in both political and social ministries. In her spare time, she serves as a youth mentor with numerous community organizations and enjoys working on public interest projects. She resides in Los Angeles County with her husband, Kerman, and fifteen-year-old son.